Roles and Rules
================================
Players:
DEATH REVEALS: LYNCHES reveal VILLAIN or NONVILLAIN (which includes HEROES and NORMALS)
THE HEROES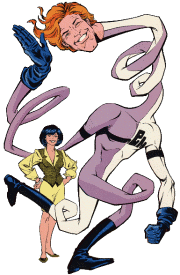 Superman - Superman cannot be Lynched the FIRST time. An attempt to do so will reveal Superman to all and does count as the lynch that day. When Superman has been revealed in this fashion, he can use his X-Ray vision to identify (Role) the First Player that voted for him. Superman can still be killed at Night by the Villains (they have Kryptonite Bullets).
Wonder Woman - Each night, Wonder Woman can compel truth regarding the Role of any other Player. If that Player is targeted for attack by the Villains that evening, the attack will fail. Wonder Woman cannot check the same Player twice in the Game.
Batman - Batman will be given the numeric breakdown of Hero, Villain, Normal each morning. Batman may research the Role of one dead player each Night.
Elongated Man - Ralph will elude the first attack against him at Night. The Villains will not be told why it failed, but EM will be informed.
-------------------------------------------------
NORMALS

Normals - no special abilities.
-------------------------------------------------
THE VILLAINS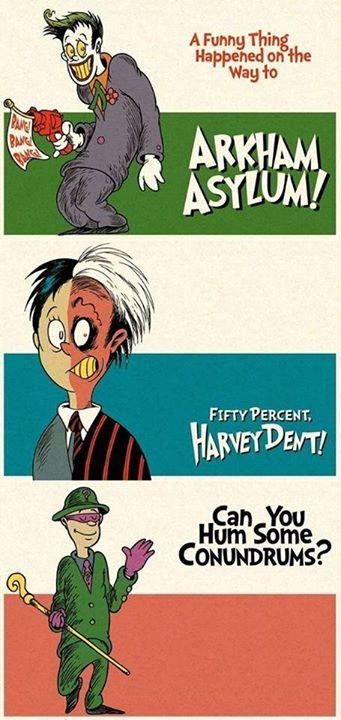 Joker - the Joker has a bomb. A very nasty Bomb. If Lynched, the Joker may use the bomb to kill any one Player of his choosing.
Two-Face - Harvey Dent will scan as Normal, both for Lynching and for Powers unless Batman is alive. In the event he is Lynched, Batman will get a PM that he was Two-Face. In the event a Power identifies him, ONLY Batman will get the Truth.
Riddler - When DAY starts, the Riddler may send a Question to the Mod in the form of "Is X Y" where X is a Player and Y is a Hero Role". If the answer is Yes, the Riddler may ask again. This continues until the Riddler gets a No answer. Riddler receives the Role of any Hero killed by any Means
=====================================
Night Activity:
Green Lantern/Sinestro may use his Ring to negate a Players Powers during that phase.
Batman may scan a Corpse for ID
Wonder Woman *may* Lasso one other Player she has not already Compelled. If that Player is the Target of the Villains that night, the attack will Fail. Neither Wonder Woman nor the Target will be notified.
Villains submit an Attack.
Any player may post in the thread whatever they wish during the Night.
PM: the Villains may PM at all times.
Day Activity:
Voting is by Actual Majority, once reached votes may not be Withdrawn and any added will not count.
Batman receives Count.
Riddler may send a Question (possibly repeatedly)
PM: the Villains may PM at all times.
=========================================================