I've decided to write an AAR. I'm pretty new to JA2, played the demo over and over back when the game was fresh (and in terms of quality it still is) until I found I could complete it without getting hit on Experience, but couldn't do much as kill a guy on Expert. As has happened to me before, I lost interest in the game due to overplaying the demo.
However, I picked it up recently off Steam... then got a refund because their "Gold" edition didn't have the expansion, but did have a whole host of exciting new bugs. I instead bought it as a pack, for the same price, from StrategyFirst. Finally got around to installing it recently and commenced playing.
I thought this AAR would be interesting because it's through a new set of eyes. I've tried various difficulty levels both with and without 1.13, as well as playing with the options. Got my butt handed to me many times until I finally got a vague idea of what I was doing and turned the tables on the game... at Novice
I have abandoned my current game and decided to start fresh and do an AAR while it's still new. This is my first AAR so bear with me. I'm not intended to do it all perfect, expect reloads to be a part of the AAR
It was a dark night when he came, cloth.... hah, no, this isn't going to be a story AAR, can't stand 'em for the most part. No, this will be me playing JA2, explaining to you what I'm doing, and more importantly, WHY I'm doing it. I think the thought processes behind every decision are the most interesting part of any AAR. So here goes.
First, my setup. I am playing JA2 Gold with the 1.13 release 1.0.0.687 and all the default settings it comes with. That means the Drassen counter-attack is on.
My settings are as follows: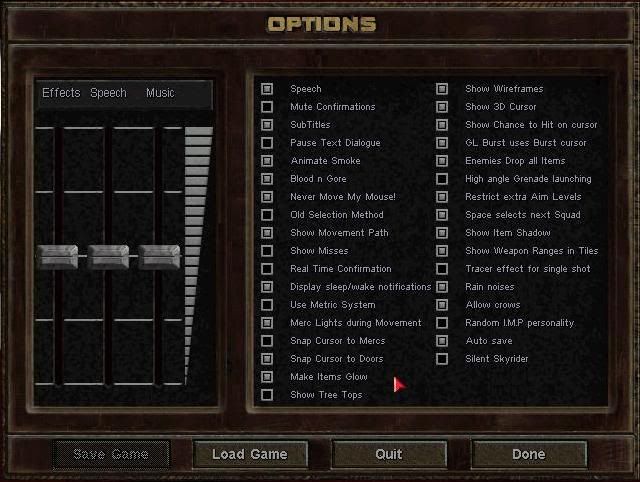 You'll notice I've enabled "Enemies Drop all items". This is simply because I can't stand having to exhaust a ton of ammo killing fifty guys, only for them to drop three clips of ammo between them. I intend to be rewarded for killing people
Having tried novice before I step up to experienced. Novice was good, but I felt I was more challenged by my retarded decisions and incompetence than the game. Cambria was a cakewalk. I'm sticking with Realistic for the moment because I don't want to throw a spanner in the works. Iron man to stop my own worst temptations. Normal gun selection because I've never seen Bobby Ray. Tons of Guns because I find the variety far more interesting... in terms of AP, range, accuracy etc. rather than any gun fetish. It opens up more options.
I generate myself an IMP profile quickly. We'll see my merc in the lineup soon enough, but I've picked voice 2 and I'm an expert in auto weapons. I've carefully min/maxed my stats because I'm a whore.
Here's the merc situation as stands: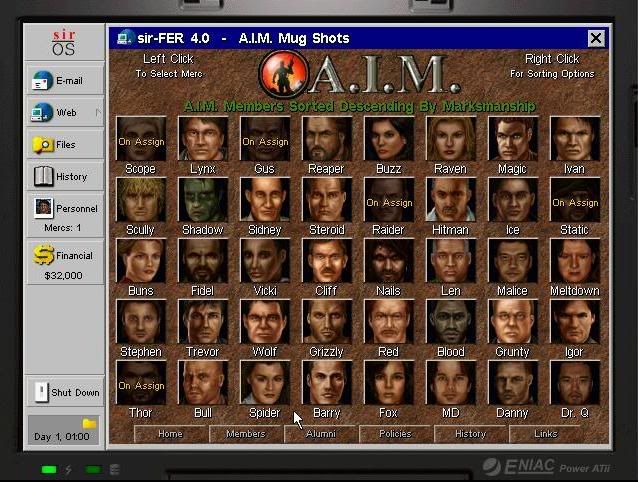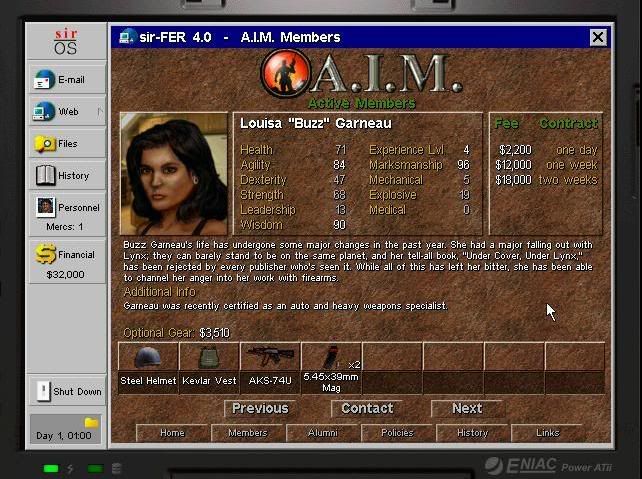 My first stop is Buzz. An early rifle can really turn the tide, and she's a crack shot to boot and reasonably priced. No medical insurance either. She was vital to my success in my previous game and I couldn't live without her. Skilled in auto weapons, a good shot, good agility, quality weapons, and she is skilled in heavy weapons too which will come in handy later if the one tank I faced last time is anything to go by.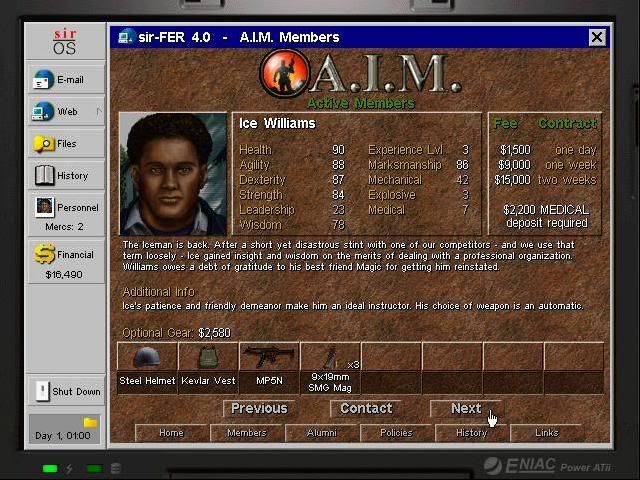 I hover over Ice, but am undecided. Shall I go with three mercs (picking up Ira for medical), or do I go with four? I had four last time, plus Ira, but would I be better served with a small army of crack men? Nah, it won't give me enough bodies to watch my back, and will leave me highly vulnerable to a lucky shot, especially if it hits Ira as it leaves me screwed in the medical area. I pass over Ice, but expect him to come in as one of my first new recruits.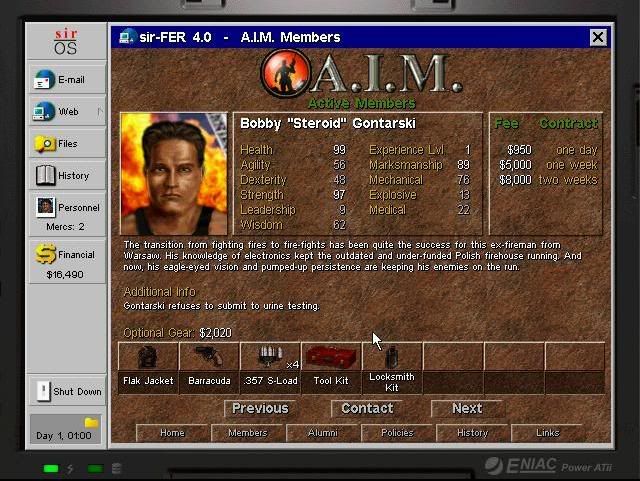 Since I'm going for two they need to be affordable, and this means that Steroid, the guy who has been in every squad I have setup, is coming back again. He's strong, can pick locks, repair items, excellent health and is a great shot too. Cheap also good. He's lacking in agility, but I don't care that much, he's in.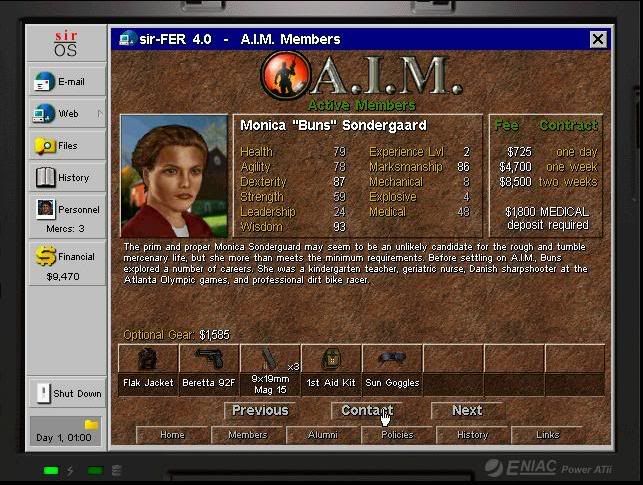 Now this is more like it. A good shot AND medical, all for a decent rate. Gun is nothing to get overly excited about, but it'll do for starters, and we'll be rolling in SMGs soon enough. I've used Buns before, she's good.
Here's the team in all its glory: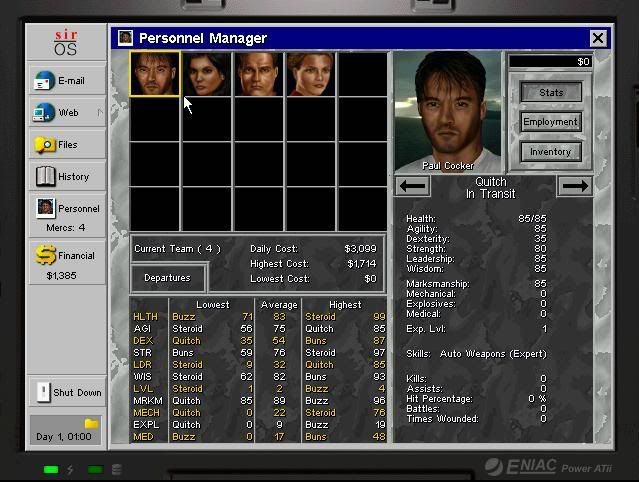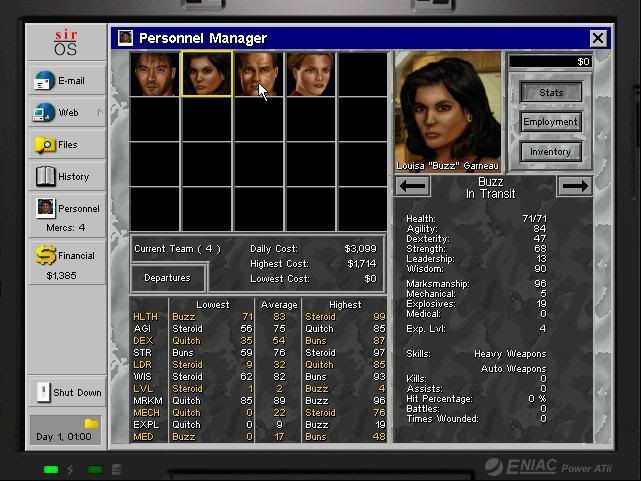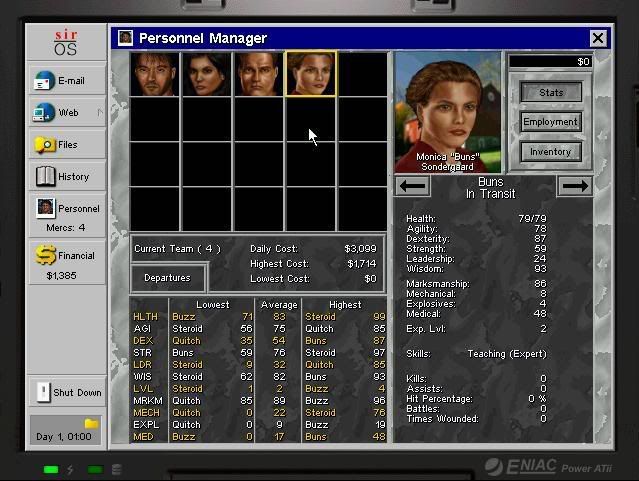 Finally, here's a breakdown of cost: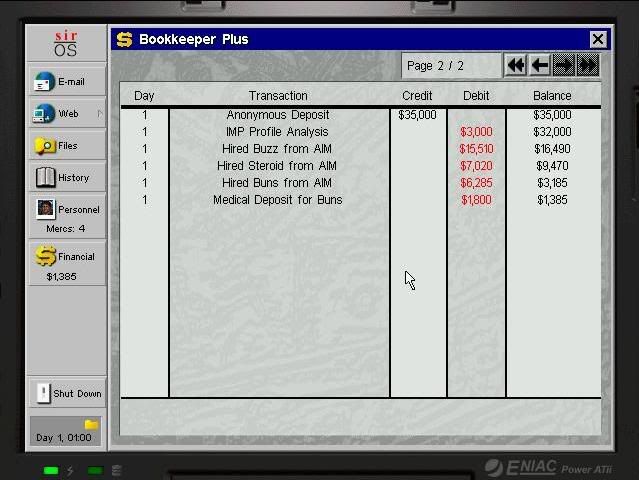 We're ready to drop!