http://store.steampowered.com/app/266510/
Saw this on Steam the other night and it up in a moment of weakness figured I'd take another one for the team based on the considerable good feedback.
Really different than anything else I've played, but very fun in the little time I've spent with it.
Basically it's a rogue-like at heart, with each game being a quest through a "dungeon" to find a particular enemy. The first twist is that the dungeons are all randomly created by playing cards from a deck you design. Each turn you move your piece to a card, and a different random event will fire off based on the card shown... some are battles, some are skill tests, some are shops or other events, etc. Successfully completing encounters can give you draws from various reward decks that can give you gold, food, or items.
Between games you can tweak your deck by adding and removing encounter cards and item cards, and it's those cards that drive all the encounters that might get played. Items and encounters are marked as new and don't give you any information about them until you actually encounter them in a game. Beating that encounter, or finding an item in a game gives you a token for that card, and after the game you are given new cards and other rewards for each new token you received which encourages players to include new cards in their deck and not just a reliable set of encounters they like.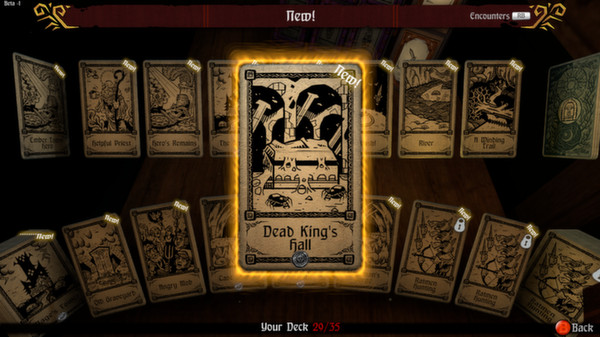 The other big twist in the game is the battles... if you run into a battle encounter, cards are drawn from an encounter deck and enemies of the proper type and number based on the card drawn will be loaded into the new battle arena (i.e. if you draw a 2 of skulls, you'll fight 2 skeletons, draw a 5 of dust, and you'll fight 5 thieves, etc). Each battle arena is a small map where you control your character in the third person, and fight all the enemies that were drawn in an action oriented battle pretty reminiscent of the combat from the Batman: Arkham XXXX games... so depending on your equipment lots of counters, finishing moves, combos, etc.
It was really a complete surprise the first time I loaded into a battle and saw how they were handled... it takes a little getting used to, but they really put together a pretty solid little combat mini game that feels well polished.
Once you progress through each game's dungeon to the bottom level you will encounter the dungeon boss. The first two for instance are the Jack of Dust and next the Jack of Bones. Defeating each boss unlocks a number of new cards you can put in your deck, and unlocks the next enemy in line for you to quest against.
The game seems remarkably polished so far with solid art direction that reminded me a little of Torchlight during the battles, while the dungeon portions gave me a bit of an Ultima vibe (since you're sitting across from a fortune teller of some sort who is playing the game cards like he's doing a tarot reading).
The only major downside I've noticed so far is the cost... it's $25 currently for the early access which feels a little pricey, but I haven't played enough to get a real feel for how much content is in the game. It took me probably about a half hour to play through the two simple starting games and there are a total of around 20 bosses to fight, but I really don't have a good feel for how long a non-tutorial game would take to play out.
So two tentative thumbs up from me for this one... it's fun in it's current form and the devs seem active and competent. I'll post more impressions as I have time to play.