This just came out of early access last week, and I've been having enough fun with it I thought it deserves it's own thread.
Frontiers is an open world RPG where you start as an independent starship captain in a galaxy full of political conflict and upheaval. It looks at first like a shallow indie tablet game, but there are a lot of hidden depths to the game both in terms of mechanics and storylines that make it a lot of fun to play.
You start by selecting or customizing a starting template which gives you control over the starting experience level of your captain, their attributes, skills, starting ship, starting contacts, and starting archetype. Archetypes include: Military Officer, Explorer, Bounty Hunter, Pirate, Spy, Merchant, and Zealot. Each of those archetypes define your starting skills, as well as the list of bonus feats you can select from as you level up. Contacts are various actors in the Star Traders world ranging from retired spies, to political leaders, to military officers, to smugglers, to fixers, to weapons dealers, etc. You'll be able to buy and otherwise acquire new contacts as the game goes on, but your starting contacts are important as it's hard to be a bounty hunter unless you have a contact that can give you bounty hunter missions.
So for instance you could start as a Military Officer with a large cruiser, and focus on fighting other starships in the overt wars that develop between the different factions, or you could start out as a spy in a small, stealthy ship and instead focus on stealing intelligence to pay the bills and helping factions during Assassin and Spy Wars. All that allows for a lot of customization, but it's also good to note you're not locked into anything with Frontiers, so even if you start your captain as a explorer, they can re-imagine themselves at almost any point.
Once you've picked all your starting details the game starts you in a randomly generated universe with an initial mission/tutorial that functions to get you moving in the game, and gives you a hook into the immense, branching storylines that are one of the more fascinating parts of the game. You can choose to ignore that initial mission without penalty and the storylines will continue without you, but the payout for the initial missions is good, and even if you want to forge your own path, they give you a nice starting boost in terms of money.
The storylines in this are fascinating as they tell a larger narrative of the political upheaval effecting the setting and allow you to effect events. The stories have failure states... if you ignore them long enough events will unfold without you, and in fact you can skip entire parts of the storylines, let AI captains do the hard work for you, and pick up on the storyline farther along, although the game will generally reward you for pushing a storyline ahead yourself by making certain things easier down the line.
So for instance, one character you meet early on is an advocate for uniting many of the games factions into a single government, and you get an option early on to do missions for her to speed the creation of this government along. If you help her, it gives you much higher reputation with the movement that arises, and can start the move for uniting to happen a lot sooner, but if you don't help her the events leading to the vote to unite will still happen, but it will be slower, weaker, and you won't have the influence with them that you would have if you backed them early on. I haven't played all the way through this storyline, but from what I've read the factions can unite or not unite based on your actions or inaction and this can have major ramifications later in the storyline.
I mentioned above that you create your captain, but as soon as the game starts you also have a ships company in the form of officers and crewman, and for most game purposes your officers, crew, and ship are extensions of your character. You will start with a basic, balanced crew and officers, but as you understand the game mechanics better and level your crew members up you'll be able to customize the makeup of your crew more and more.
The interesting thing with crew, is the soft, skill based system in place that punishes you if you ship isn't properly crewed. So as you are sailing the cosmos, skill checks for your ship will pop up very regularly and they require successful skill checks from your crew or else bad things happen. For instance you might need to make a ship operations check in order to not have an accidental airlock rupture which would hurt some of your crew, or maybe you need to make an intimidation check to keep a poker game among the crew from turning into a brawl, or maybe you'll need to make a navigation check to jump through a gate. For failing a check you are generally only lightly punished in the form of ship and crew damage, but collectively all the checks you have to make add up, so that if your ship isn't properly crewed, you'll be constantly shelling out money for repairs and hospital bills for your crew. To better pass those checks you'll need to make sure you meet minimum crew skill levels in a number of different categories based on the size of your ship. A small, spy ship would only need a handful of crew compared to a cruiser that would require 3 or 4 times the crew of a smaller ship. Crew skill plays a big factor in this, so an entire level 15 crew will need noticeably less people to meet the minimum requirements than a ship crewed by nothing but level 1 crew.
The last thing I'll mention is the combat. Not only is there turn based ship to ship combat that is very fun, but there is also 4v4 ground combat you will often engage in that is very obviously based on Darkest Dungeon. Among your crew you will also have various combat classes, and before each ground battle you can select the 4 crew members you want to do the fighting. You can chose crew, officers, or your captain to fight, but note it's possible that your captain and at least some of your officers will suck at combat. I find because of the way abilities work you are generally better off focusing officers as either combat officers or support officers. In my current game I have my ship's doctor cross trained as a combat medic, and my chief security officer is trained as both a spy and assassin, giving him some stealth related abilities in combat, but the rest of my away teams are made up of crewmen.
The underlying game is dense, and some of the inner workings aren't really well explained, but once you get the basics of how skills are used and interact there's a lot of amazing potential.
Main map: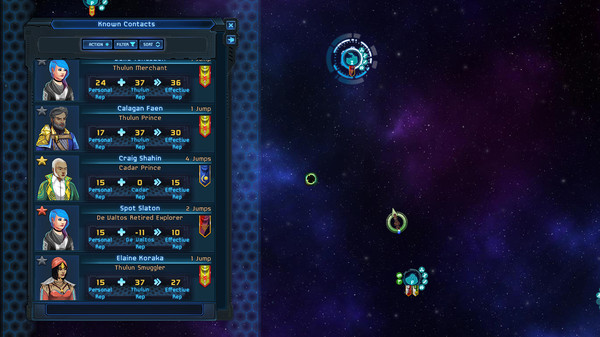 Space Combat: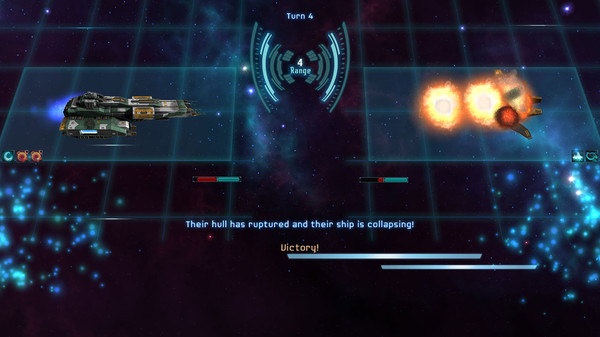 Ground Combat: