As promised in the Reaper thread, here's a new thread for discussing painting and showing off what we do.
I just started working on my Zombicide minis, and will document some of my efforts here. It's been 10 years since the last time I painted miniatures, so I'll be learning as I go, and you'll be able to see what kinds of results an amateur can come up with.
Since Zombicide contains a shitload of minis, I'll be going for a method of painting that gives good results with a minimum of time involved. Painting a miniature typically contains the following steps (as far as I know):
1) Cut away mold lines and other artifacts from the molding process, and file down areas that need to be glued together.
2) Wash the mini in warm water and dish soap.
3) Prime it, either with spray or with a brush. Spray is recommended.
4) Apply a basecoat. This will contain the miniature's basic color scheme with few bells and whistles. This is not the time to apply highlights or shading.
5) Shade the mini. There are multiple ways to do this, including wet shading, inks, washes, quickshade, and so on.
6) Highlight it. This can also be done in multiple ways, such as wet shading (as part of the previous step) or dry brushing.
7) Base it. Use glue and various kinds of materials meant for basing. Apply some paint if you want.
8) Apply varnish to protect the paint. The best way is gloss varnish followed by matte varnish for the best look combined with the most resilience.
9) Add vegetation to the base.
For Zombicide I will follow a simpler procedure:
1) Spray prime.
2) Basecoat.
3) Quickshade.
4) Highlight (selected minis only).
5) Matte varnish.
I may do basing, but I don't think it'll be such a good idea with the minis loose in the box. Notice that I'm skipping the cleaning of mold lines. It's fiddly work and I just can't be bothered with this many minis. It'll affect the results, but that's okay.
Here's a fatty, straight from the box: (apologies in advance for the picture quality. It's a combination of poor lighting and a cell phone camera. Click on the pictures to see a higher-res version)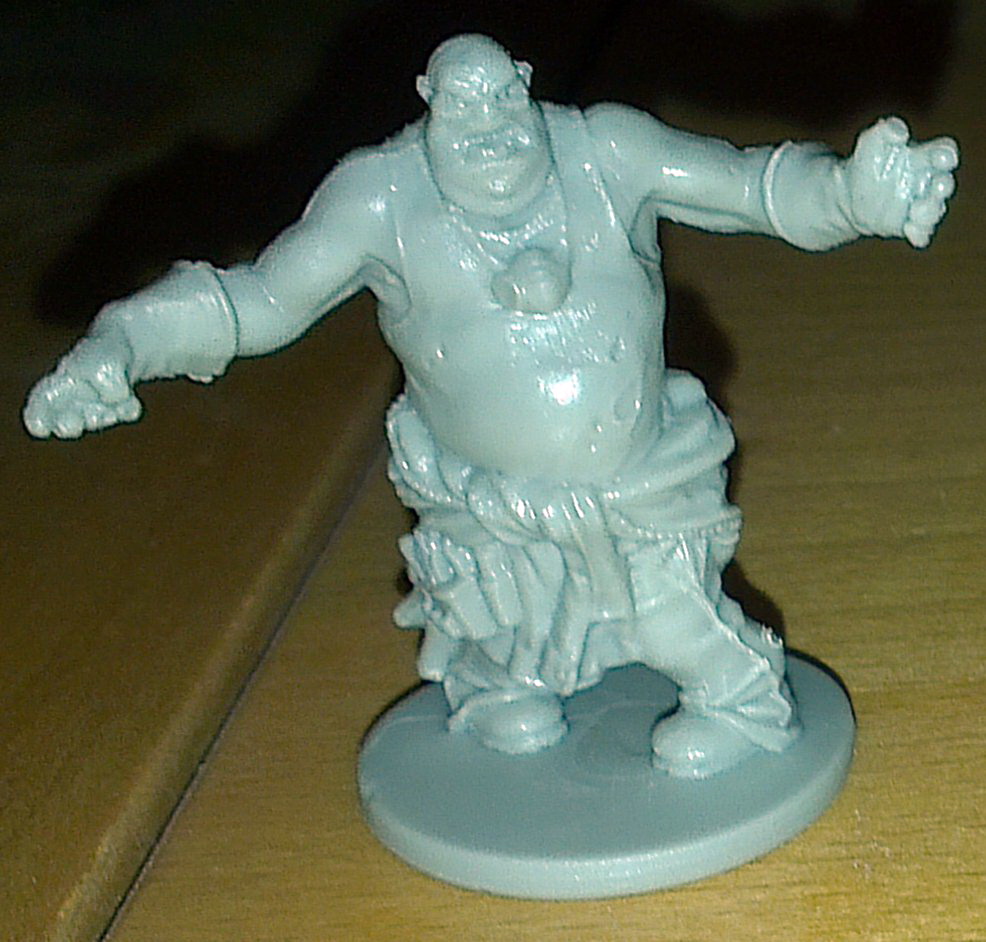 The fatty is wearing a shirt, and for most of them I want the shirt to be white, so I'll be priming these using white primer. Notice the mold lines on his shoulders. They'll be noticeable also after painting, perhaps even more so. Here's a bunch of fatties immediately after priming:
I'm doing the spray priming inside a cardboard box since I'm doing this inside. Don't want primer all over my furniture.
I want my walkers to be dark and dirty, so I'm using black primer for them. Here's a bunch of them inside a cardboard box. Notice the primer is still wet. Once again, I apologize for the quality. Dark box + dark minis leads to poor pictures.
I wasn't sure if I wanted the abominations to be primed white or black. In the end I went with black because it's easier to make them look "evil" that way.
The runners I'll do later. I plan to do both basecoating and quickshading tonight, so hopefully I'll have something more interesting to show you tomorrow.